Howdy, Hunters!
To celebrate theHunter: Call of the Wild launching onto Epic Games Store, the news of the up and coming content, and just how awesome our community is in general [😉], we're hosting the very first annual Apex Hunter competition!
➔ 18 CONTESTANTS ACROSS PC, PLAYSTATION, AND XBOX.
Want to take part? Make sure you're a member of theHunter: (Official) Discord and available to tune in and participate in multiplayer activities on either PC, PlayStation, or Xbox between Tuesday 7th and Friday 10th December between 1545 - 1800 hr CET / 0645 - 0900 PST.
We'll be kicking off with a free-for-all guessing game during the stream via Twitch and YouTube on Tuesday to determine the participants. From there, six players per platform will go on to take part in a Mystery Harvest where they will submit their three best kills for tallying.
➔ SCORE ONE OF THREE EPOS GSP 601/602 HEADSETS + CALL OF THE WILD PHYSICAL MERCH PACKS.
Prizes! Three players with the highest combined score on their platform, and one from each will emerge victorious as the Apex Hunters of the season! Winners will score a loot bag including:
One of three EPOS headsets (EPOS GSP 601, EPOS GSP 602)*
theHunter: Call of the Wild stickers and limited edition t-shirt
theHunter reserve-themed postcard
AND
Each of the three victors will be bestowed the Discord community Role of "APEX Hunter 2021", complete with an exclusive badge of honor (Custom Role Icon).
Bragging rights for the win, eh?
Read on for competition participation requirements and scheduling! We'll post the full ruleset in Discord closer to the platform rounds start date.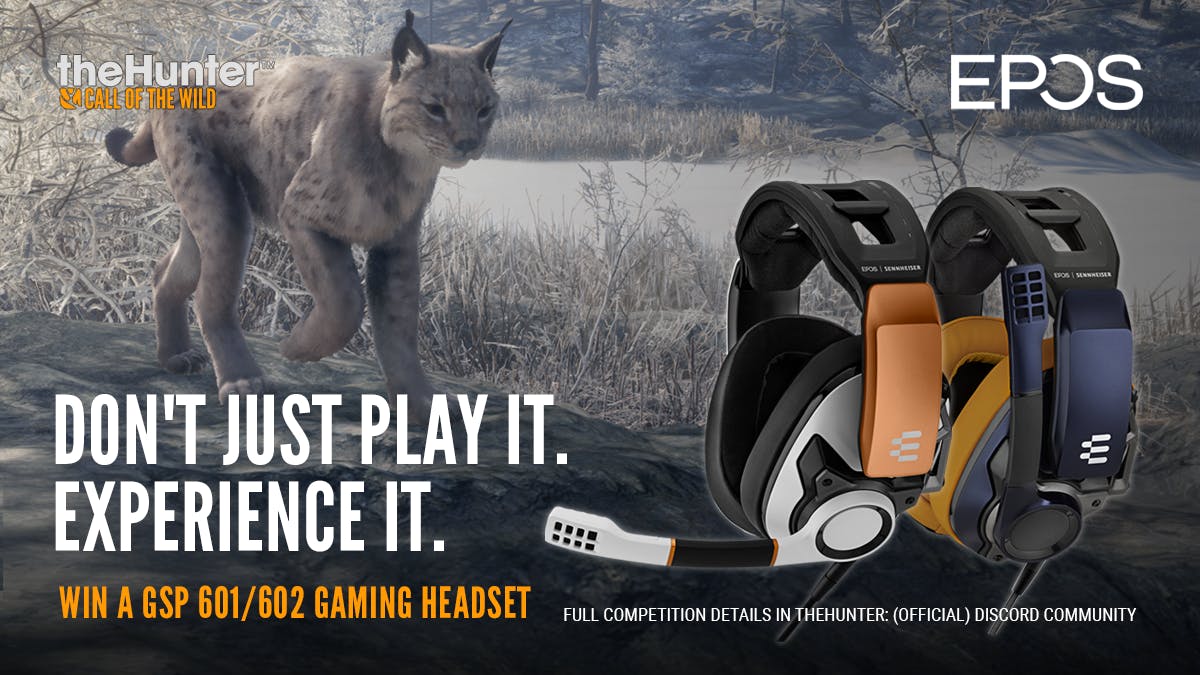 REQUIREMENTS
One entry per person on either PC, PlayStation, or Xbox.
Participants must:
Be a member of theHunter: (Official) Discord server and agree and adhere to the community rules and guidelines
Adhere to theHunter: Call of the Wild Privacy Policy and EULA, as well as the Terms of Service, Privacy Policies and Community Guidelines of Discord, Twitch and YouTube, all of which can be found on their respective websites
Be available to participate during dates the times the preliminary event and their platform round takes place
DISQUALIFICATION
Any attempt at cheating will result in immediate disqualification, as well as removal from theHunter: (Official) community server.
To help moderators determine whether or not the harvests are genuine, two screenshots must be submitted with each submission: one of their Harvest screen, and one of their Codex log.
SCHEDULE
The competition series will be held between Tuesday 7th and Friday 10th December and broadcast across the Expansive Worlds Twitch and YouTube official channels.
Tuesday 7th
2-hour stream
Qualifying event (guessing game)
Wednesday 8th
2-hour stream
Xbox Round
Thursday 9th
2-hour stream
PlayStation Round
Friday 10th
2+ hour stream
PC Round
To participate in the competition, join the official theHunter Discord and keep an eye out for more updates.
++ Follow and subscribe to our Twitch and YouTube channels to get notified about new content and live broadcasts!
* Headsets will be assigned to the competition winners at random.